I recently started investing money in Shopify as I'm increasingly confident the company will be the de-facto platform for e-commerce.
A quick disclaimer before starting: This is not investment advice. I'm not a stock analyst. I'm investing a part of my savings as a hobbyist in tech brands I know very well. In this post, my goal is to share my thoughts about Shopify's strategy and why the company's value will grow in the coming years.
I believe the future is thriving for Shopify. It's one of the 3 US stocks I currently hold in my portfolio.
As I already knew the company for a long time, I discovered the platform in detail when we moved our online shop for electric car drivers, Mister-EV.com, to Shopify last year. What I found is brilliant.
Shopify can handle e-shops from the most simple to the most complex and personalized form. They recently started providing solutions tailored for B2B shops, providing the company with tremendous opportunities.
Our mission: Making commerce better for everyone.
We help people achieve independence by making it easier to start, run, and grow a business. We believe the future of commerce has more voices, not fewer, so we're reducing the barriers to business ownership to make commerce better for everyone.
― Shopify
As an investor, the first thing I love about Shopify is how its powerful platform creates value for multiple stakeholders. They connect merchants with buyers by offering versatile e-commerce software. They also connect merchants with app developers and e-commerce experts to develop their businesses. Each connection creates value.
I love their business model too. They charge their merchants a monthly fee and take a small cut of their sales. This cut is crucial because it means they are aligned with their customer's interests. The more they sell, the more Shopify earns money. As a merchant, you can feel that in all they are doing. They are working on providing more sales by increasing the conversion rate of the buying funnel, removing friction to sell in other countries, developing marketing, etc.
Another exciting aspect of the company is the ecosystem they are building. The product connects most e-business SaaS, but Shopify also provides an app store so developers can extend the platform. The company can understand which ecosystem services and apps are the most used and integrate a competitor into its product.
The last point that impressed me with Shopify is its ability to ship new features and improve the product. The management of the company has a strong understanding of technology. As a customer, I can feel they are moving quickly and they are not afraid to try things at scale. For example, look at the impressive list of new features they released this winter.
Indeed, e-commerce is complex, with many different use cases and needs. Shopify progressively handles all the merchant needs: logistics, marketing, automation, integration with other tools, taxes, invoicing, data analytics, B2B and B2C, etc. Each new feature they drop adds a new entry barrier for their competitors.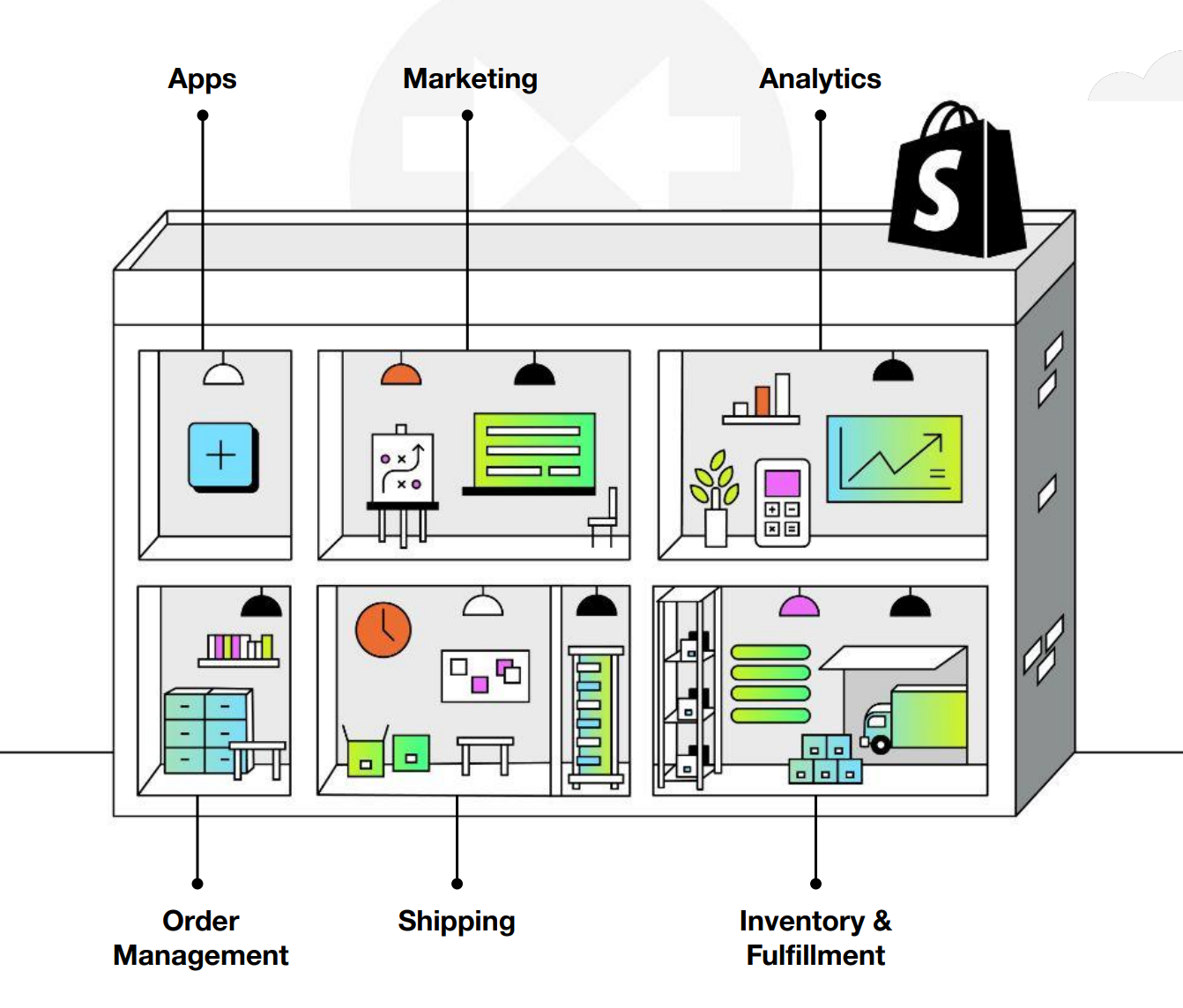 From my point of view, Shopify is building an increasingly powerful platform. The company also has strong retention of their customers. When a merchant enters the Shopify ecosystem, migrating to another solution becomes increasingly difficult. That provides the "pricing power" to Shopify. They can progressively raise their price during the company's life without losing customers. They will also increase sales as e-commerce grows and their merchants become more efficient with their solutions.
With all that in mind, I'm confident the company will see its value increase over time!